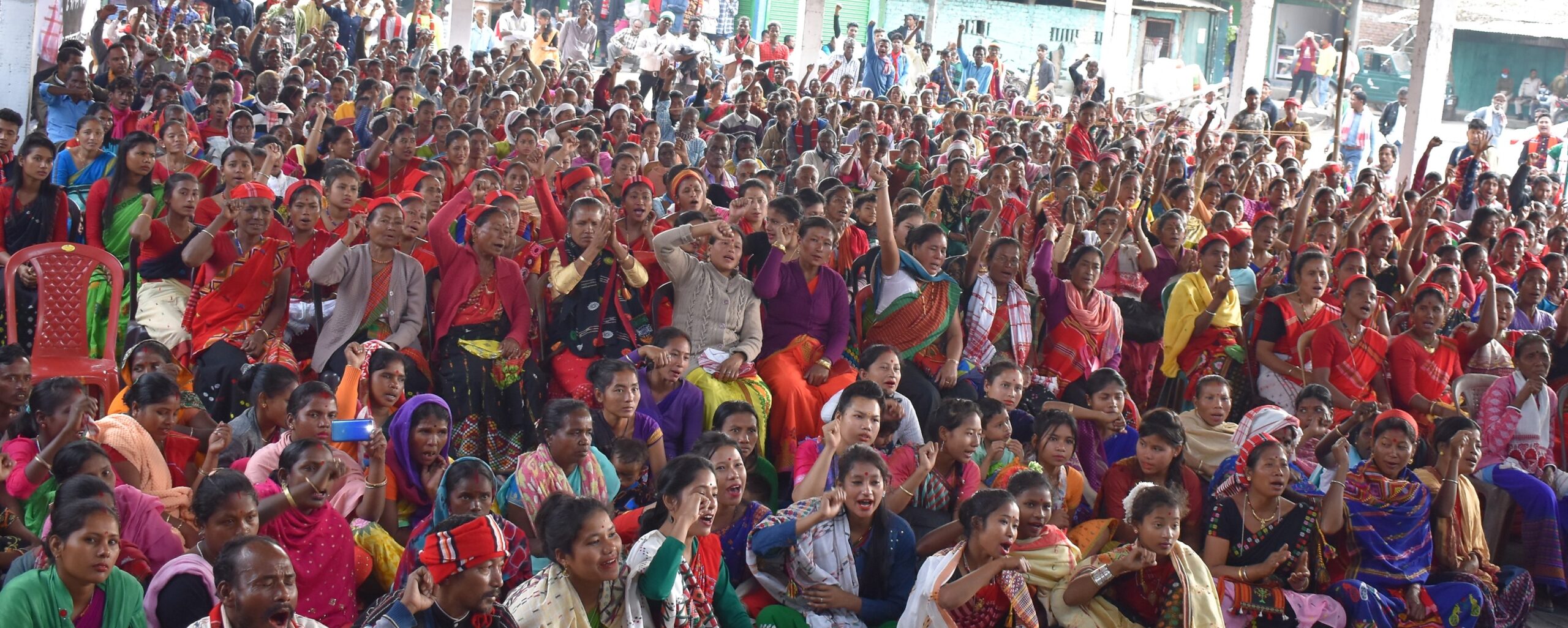 My lessons from Assam 2021- Tribals are not a uniform 'vote bank'
Elections are fascinating. The adrenaline rush of campaigning, countless debates, the anticipation of results, unpredictability, exit polls and final results. All of it. I participated directly in the last Assam Assembly elections as a part of Pranab Doley's outreach team.
Pranab contested from Bokakhat LAC, which is home to the famous Kaziranga National Park. Pranab is a fellow Mising and a junior from TISS Mumbai. We have never met, even though we have spoken over phone and zoom video calls on multiple occasions. Pranab's manifesto, his vision, and his work as an anti-fascist campaigner resonated with me and many others. His identity of a fellow Mising played a role only when contextualised in the larger structure of marginalisation. That's why, when he reached out to me, I jumped in and immediately volunteered to be a part of his outreach.
Because I participated remotely, most of my task involved supporting the social media strategy, especially with the messaging and how the manifesto and the issues are communicated, raising financial support (whatever possible), and making calls for support from various organisations, including our own. We ran a beautiful campaign. Our campaign was progressive, inclusive, and emancipatory. We had no corporate money and no star campaigners, which other parties had access to. With very little, we achieve a lot. The organic democratic movement Pranab's campaign was able to create in Bokakhat is nothing short of inspirational. Pranab stood at a respectable 2nd position in an otherwise very crowded election. In the process, he defeated candidates who were ex-MLAs and various leaders with extreme 'political clout'. The incumbent MLA Atul Bora won. While the results were not what we hoped for, we are not disappointed.
Reaching out to the various organisations, including my own community's, offered many interesting insights, on the voting pattern, often missed by various analyses.
Soon after elections, a fair amount of blame is passed on the voters. It's probably an easy thing to do because it enables parties to avoid the difficult exercise of evaluating their strategic and structural failures. Most of such blame come to the rural poor or tribal communities too. They are highlighted as 'uncritical', people who change their preference over a 'good meal and alcohol' and so on. And this election was no different.
Soon after the results came, some theories started flooding in social media that the tribes in Assam had voted for BJP, thereby passing the blame to entire communities, without understanding why tribes do so. Such blanket conclusions not only highlighted the political ignorance of those 'analysts' but also lay bare their attitude towards the tribes.
Let me use the example of my community. The 7-8 lakh odd members of the Mising community (not all of them voters) generally elects 2-4 representatives at any given election. In this elections, four candidates became MLA: three from BJP and one independent. Tribes like the Misings, often ally with the ruling party, hoping that such association would enable them to get the rights that they have been demanding for decades. The alliance has nothing to do with the Hindutva agenda but is based on the promises the ruling party makes to communities. These alliances take several forms. The candidates either directly contest as the ruling party candidates or enter into formal party-party alliances or in the seat-sharing options. Over the years, the Misings have allied with various parties in different forms and have contested elections. Such alliances, while beneficial in getting access to 'electoral power', could be harmful to these communities in the long term. These alliances not only help divisive and fascist elements come to power, but also gives easy access to them to the smaller tribal communities, thereby enabling them with the power to indoctrinate such communities with the Hindutva agenda.
And tribes do not enter into elections, without any 'agenda', or 'critical' understanding as otherwise portrayed. In my interaction with a student organisation, they highlighted very clearly, that 'elections are not an emotional exercise, but a real pathway to achieving our goals and demands for the community'. Preparation for the elections starts years ahead. Calculations of not just the voters, but analysis of winning prospects of various candidates are carried out. Judgements are made on what the parties and candidates bring to the table. In a situation of multiple candidates from the community, it is not always a given that the allied party candidate would get the support. After finalization of the list, the committees at all levels, starting from the very grassroots are activated and they get into campaigning mode and only rest after the final results are out. After the elections, other issues of following up with the demands get kickstarted. Of course, within these linear narratives, there are complexities of identities, strategic goals and ideologies but those can only be understood by participating and interacting with those who make these 'electoral decisions'.
So, there is a good chance that those who have a good meal or even accept financial resources for their vote, might have eventually voted for a critically decided candidate. And even those who vote 'for money or a good meal', which includes people from across communities, highlight that they do not expect much from the democratic electoral process and see it as 'one-time opportunities, as they have grown tired of continued apathy.
Could a regional force have countered the BJP?
Soon after the results, a greater question asked amongst the Assamese electorate and political analysts were, why is Assam not able to develop a united regional party, like seen in other states. Assam Gana Parishad in its initial days had a fair bit of success only to be obliterated due to its own mistakes. The answer probably lies in what the newly emerging regional parties seek to do. Currently, there are too many 'regional parties' in Assam. All of them seek to do the same thing but use different routes or are born from different organizations. Assam is deeply polarised, and the new political parties seek to benefit from it rather than seeking to identify those and make efforts to consolidate the electoral base in Assam. The results are evident. While the AJP, even with various 'high-profile' candidates could not secure even a single win, the Raijor Dol had 1 win, which probably had more to do with Akhil Gogoi's credibility than the party structure and ideology itself.
There is a definite need for unity among these forces. These parties will have to historically understand the voting and electoral behaviours of different communities in Assam. Attempts should be made to understand the 'ruptures' in voting behaviours and use them as entry points into those communities, rather than agreeing to a half-baked analysis of classifying tribes as the voting base for BJP or any other party based on particular elections.
The goal is clear. The ideological discourse the regional forces bring must be inclusive. Tribes will not associate with a discourse where they are seen as the 'other' or 'inferior'. I had earlier written how tribes like the Misings reacted to the formation of AJP and what the party could do to gain support from the tribes here.
Various analyses have come forth to highlight that 'CAA is not an electoral issue', or that voters are easily swayed by welfare services. These statements, I believe, are only partly true and are wake up calls for organisations for introspection. I believe the message is very important. It is important to understand the difference between electoral language and rhetoric. I believe that most of the regional forces, formed barely months before elections, were not able to translate issues like the CAA, unemployment, Baghjan oil spill etc. into electoral issues. And the existence of different political parties meant that the votes of non-BJP voters split.
Building solidarities take time. The regional political outfits should take the results as learnings and work towards building an inclusive progressive force. Parties should not serve as a launch vehicle for political aspirations of the Assamese middle class, as it has often been seen, but instead focus on building a credible regional alternative, which can not only consolidate and represent the united aspirations of the diverse communities in Assam but also counter divisive politics.
(This post first appeared in East Mojo here. Picture courtesy-Youth for Bokakhat FB page)
Elections are fascinating. The adrenaline rush of campaigning, countless debates, the anticipation of results, unpredictability, exit polls and final results. All of it. I participated directly in the last Assam Assembly elections as a part of Pranab Doley's outreach team. Pranab contested from Bokakhat LAC, which is home to the famous Kaziranga National Park. Pranab…